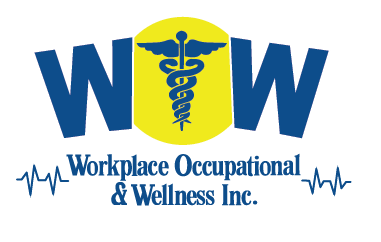 Phone: 812-378-4511 * Fax: 812-378-4512
Monday - Friday 8:00 a.m. to 5:00 p.m.


Low Cost High Standard Services
Workplace Occupational & Wellness List of Services
This is a list of the services we can offer you and your employees. If you don't see something listed you would like simply contact us today and we'll try to arrange it for you.
Lab Test:
We are authorized collection sites for the following top rated Medical Labitories: Quest, Path Group, MedTox, Lab Corp &
Midwest Toxicology. All companies can pickup lab test results at WOW Clinic.
BRING YOUR DOCTOR'S LAB ORDER INTO US AND SAVE MONEY! We will give you a receipt to give to your insurance company that they apply toward your annual deductible.
Your Lab Test results will be automatically go to your doctor's office after being processed at the lab. SAVE MONEY & TIME!
X-RAY:
When your doctor orders one or more X-rays, bring the order to WOW and SAVE MONEY! Keep in mind that medical services providers all have the same federal and state standards to uphold. Why pay more when you can pay less and get the same quality of healthcare? Your X-ray films are interpreted by a certified radiologist and a printed report is sent to your doctor. We print a paid receipt at the time of service payment. Request forms are needed at the time of service to be able to provide to your insurance company.
Sims Plaza * 2329 Marr Road, Columbus, Indiana 47203

Major Services:
* Sport Physicals
* BioMetric Testing for Insurance Claims
* Medical treatment of Occupational illness/injuries
* TB Testing
* Breath-Alcohol Testing
* Onsite Random Drug Testing
* Claim Management/Cost Reduction for worker's comp claims
* Primary Care for minor illness/injury
* Disease Management for chronic illness
* Wellness Screenings and counseling
* Pre Employment Evaluations
* CDL/DOT Physicals
* Impaired Employee Evaluations
* Jobsite Ergonomics Evaluations
* Certified CPR training sessions
* Certified BBP training sessions
Occupational Services:
* Urine drug screens – Pre-employment, random & post accident
* Breath Alcohol Testing
* Yearly Flu Shot (will give injections onsite)
* Full Service Lab – Will do outside labs for small charge (charge based on test done. Bring in your doctors order and we will draw lab results)
* X-rays with Radiology reading will go directly to you doctor
"AFFORDABLE WHOLE-PERSON HEATHCARE"